NOW CLOSED - TOO GOOD TO BE TRUE GIVEAWAY - $1,750 VALUE

We got together (virtually!) with some amazing brands to offer you a Too Good To Be True prize pack worth over $1,700.

What do we all have in common? We're all about you. We're helping you feel and look your best, all day, every day.

Enter today to win the best goodies out there for your skin, hair, and body.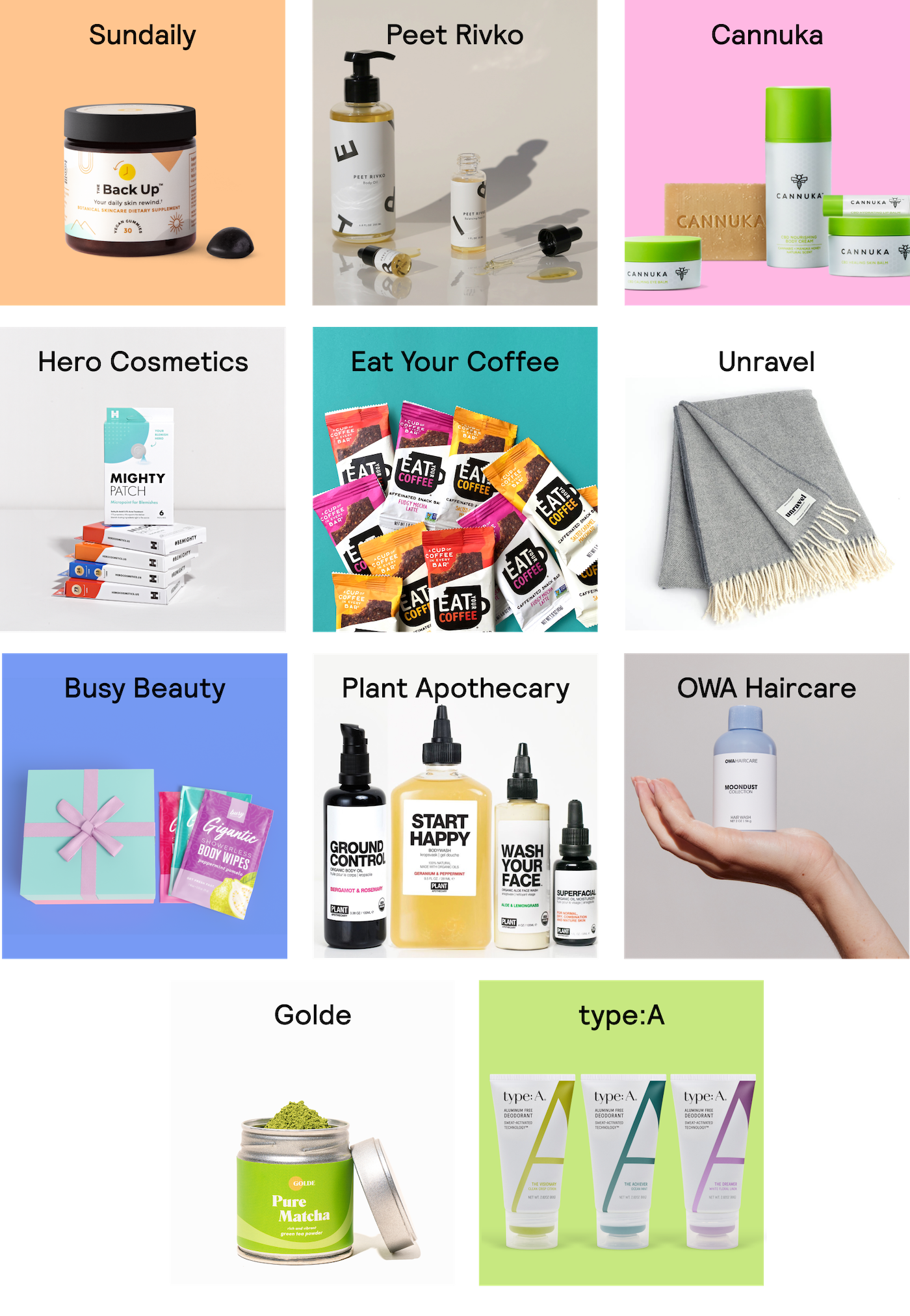 THIS GIVEAWAY IS NOW CLOSED.
PRIZE INCLUDES:

⭑ 1 year of Sundaily gummies ($468).
⭑ Cannuka's Skincare Collection ($230).
⭑ Eat Your Coffee's Snack & Swag Pack ($185).
⭑ Peet Rivko's Skincare Starter Set ($162).
⭑ The Plant Apothecary Cult Favorites Kit ($149).
⭑ Unravel's SuperLight Throw ($149).
⭑ 3 Busy Beauty Body Wipe Variety Care Packs ($120).
⭑ Hero Cosmetic's Complete Pimple Lifestyle Kit ($102).
⭑ Golde's Superfoods Mask Kit & Pure Matcha ($92).
⭑ 3 Bottles of OWA Haircare's Hair Wash ($87).
⭑ type:A Classic 3-Pack Deodorant + Wipes ($39).


Sundaily is your skincare in a daily gummy. To take care of your #skinfromwithin, Sundaily is giving away one year supply of The Back Up, a skin repair gummy. The Back Up fights the visible signs of aging through the power of plant-based antioxidants. This gummy will reduce deep lines & wrinkles, fade age & sun spots, increase skin plumpness, and support skin's collagen layer! $468 value.

Cannuka takes two natural, skin-loving ingredients (Cannabis and Manuka Honey) and combines them for the first time to create something truly unique and optimally effective. Simple, natural, and safe - their skin care collection is essential. Included in the prize is the Beauty and Health collection, Harmonizing Face Cream, and their brand new Purifying Gel Balm Cleanser! $230 value.
Founded by coffee-deprived college students, Eat Your Coffee is on a mission to help people get energized and get more done with naturally-caffeinated snacks made with real, ethically-sourced ingredients. The Swag & Snack Pack contains a full sampler of their edible-coffee menu and the swag to mark you a certified coffee-eater. $185 value.

Everything you need to kickstart your skincare routine. Peet Rivko is a line of ultra gentle, clean skincare free from fragrance and harsh irritants. Our soothing products are designed for all skin types and genders, including the most sensitive of skin. $162 value.

At Plant Apothecary, we're getting straight to the root of clean, organic, eco-friendly self care. Our products combine the highest-quality botanical ingredients with innovative technology and apothecary know-how, to deliver the gentlest, most nourishing skincare—that works for everyone.We don't believe in formulating, shipping, or selling products that are mostly water, so we're committed to filler-free, concentrated formulas that are both more effective and more sustainable for our planet.We won't stop thinking about clean beauty, because we believe you shouldn't have to. The Plant Apothecary Cult Favorites Kit includes Start Happy Organic Body Wash, Wash your Face Organic Aloe Face Wash, Superficial Organic Face Oil, and Ground Control Organic Body Oil. $149 value.

Unravel makes super soft, natural, and sustainable wool products to keep you at your coziest. Their SuperLight Throw is warm, cozy, and absolutely wonderful. $149 value.

Busy Beauty creates personal care wipes that are good for you and the planet. Their Body Wipe Variety Care Package includes 24 individually-wrapped Body Wipes in three unique scents - Peppermint Pomelo, Kiwano Starfruit, and Dandelion Dragon. ($120 value).

Hero skincare restores your healthiest skin, treating it today while healing it for tomorrow. Their Complete Pimple Lifestyle Kit will solve your all your pimple emergencies! $102 value.

Golde is all about superfood health and beauty for every body. Our matcha is made with 100% pure, shade-grown green tea leaves from Uji, Japan, and the masks are 100% pure superfood skincare. $92 value.

OWA Haircare is an innovative haircare brand delivering concentrated, effective waterless formulas. Their Moondust Collection: Hair Wash is water-activated shampoo for everyday use. 3 bottle supply included. $87 value.

type:A is on a mission to help people lead healthier lives without sacrifice by making a high-performance, non-toxic deodorant. Paying attention to every detail. Overachieving expectations. And never settling for mediocre performance. Our alcohol-free deodorant wipes keep you fresh on the go! Each wipe is individually wrapped, so it's the perfect solution for your gym bag, glove compartment, backpack, and more. Available in The Visionary (crisp citron) scent. The Classic 3-Pack is our sweat-activated and aluminum-free deodorant in our 3 best selling scents - The Visionary, The Dreamer, and The Achiever! $39 value.
THIS GIVEAWAY IS NOW CLOSED.

No purchase necessary to enter. Void where prohibited. Eligibility and Sweepstakes subject to the Terms and Conditions.